We all want to do our part in protecting our planet, but oftentimes, it's hard to know where to start. Fortunately, being an environmentalist doesn't have to be complicated or time-consuming.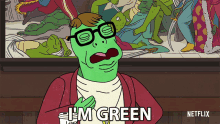 In fact, you can easily make small changes in your daily life that will greatly impact the environment.
Plus, with the help of the Bleame Crystal Hair Eraser, you can look fabulous while doing it!
Let's take a look at five simple ways you can become an eco-friendly beauty queen. 
#1. Switch to Natural Beauty Products
Many conventional beauty products are full of chemicals and toxins that can seep into our bodies over time, causing health issues.
Switching to natural products is a great way to take care of yourself while also doing your part for the environment.
Plus, there are some really great brands out there now that make vegan, cruelty-free, natural products that work just as well as their conventional counterparts! 
#2. Reuse Your Containers
If you buy makeup in bulk or have some containers lying around from other purchases, why not reuse them?
It's an easy way to cut down on plastic waste while also getting more bang for your buck! Plus, it looks cute when you store all your makeup in matching jars or bottles. 
#3. Buy Refillable Products
Refillable products like lipsticks and mascara can save you money in the long run and help reduce waste since you don't need to keep buying new containers or tubes every time you run out of product.
Plus, they're typically made with higher-quality materials that last longer than their disposable counterparts! 
#4. Use Eco-Friendly Tools
You may not think about it often, but tools like brushes and applicators can greatly impact the environment if they aren't made with sustainable materials or disposed of properly after use.
Investing in eco-friendly tools such as bamboo makeup brushes or reusable sponges is an easy way to make sure you're being kinder to the planet while still getting amazing results! 
#5. Try The Bleame Crystal Hair Eraser
This revolutionary product is not only eco-friendly but also super effective! The Bleame Crystal Hair Eraser is designed with natural minerals that gently exfoliate away unwanted hair from any area of the body without damaging the skin or leaving behind any residue.
It's a great way to get rid of unwanted hair without having to worry about harsh chemicals or damaging waxing sessions! 
The Bottom Line
Taking care of our planet should be at the top of everyone's list of priorities – but fortunately being a better environmentalist doesn't have to be hard work!
Make a lasting change in the world today with just a few simple and easy adjustments! 
Investing ethically in sustainable beauty products, like Bleame Crystal Hair Eraser, or using refillable items when you can are both great places to start.
Little changes add up over time, so make an impact now!