If you think your wedding day is all about the vows, think again! You definitely would want to make your wedding night as memorable as possible.
Of course, the first thing on your to-do list should be to get creative when it comes to lingerie.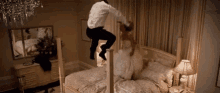 But if you want to make sure your partner remembers that night for a long time--you'll need more than just sexy sleepwear!
Here are some tips and tricks you can use to make your wedding night one that won't easily be forgotten:
1. Set the mood with a bouquet of flowers.
When you're planning your wedding night, the last thing you want is for your partner to be yawning and checking their phone.
You want them to be so swept up at the moment that they can't keep their hands off you. And one of the best ways to create that mood is with flowers.
The right flowers can transform your bedroom into a romantic oasis, setting the stage for a night of passion.
Plus, the scent of flowers has been shown to reduce stress and promote relaxation, which is precisely what you need.
2. Make the ultimate sexy playlist.
Your wedding night is supposed to be the most memorable night of your life. The night when you and your new spouse finally get to let loose and enjoy each other. So why not set the mood with the perfect playlist?
Think about it: what gets you in the mood? Is it slow, sultry R&B? Or maybe some hot, bumped-up club tunes? Whatever gets you feeling yourself, put it on that playlist!
And don't forget to include some of your partner's favorite songs too! After all, this is supposed to be a shared experience.
Now, you might be thinking: won't my partner be able to tell that I planned this out ahead of time? Of course, they will! But that's half the fun.
Your partner will appreciate your effort to make the night extra special, and they'll be more than turned on by your confident demeanor. 
3. Add some unexpected surprises.
No one likes to be bored, so why not shake things up a bit?
Think about what your partner loves and surprise them with something totally unexpected. It could be anything from surprise champagne and strawberries to tickets for a romantic weekend getaway.
The goal is to make your partner feel special and appreciated. When they know that you put thought and effort into planning the night, it'll make them feel loved like never before.
A few surprises here and there will definitely have your partner shaking in their socks!
4. Get Yourself Gleaming with Gleam Body Scrub!
Nothing says 'I'm ready for my close-up' like a Gleam Body Scrub. I mean, just look at the name - it practically begs to be used before a big event!
A wedding night is a big event. And you want to look your best for your new spouse. Of course, you could just go au natural - but why would you when you can make yourself gleam?
Plus, something about scrubbing away all those dead skin cells makes you feel super sexy. It's like you're saying, "I'm starting our life together with a clean slate."
And if your partner is anything like ours, they'll be more than happy to help you with that pre-wedding scrub down. So go ahead and pamper yourself - your wedding night will thank you!
Just remember, no matter what you decide to do, the most important thing is that you and your partner feel comfortable and relaxed. That way, you can enjoy the night without any distractions or worries.
And with these tips in mind, you'll make your wedding night one that neither of you will ever forget!
Good luck and have fun!